From oak to panel. Jan van Eyck in Bruges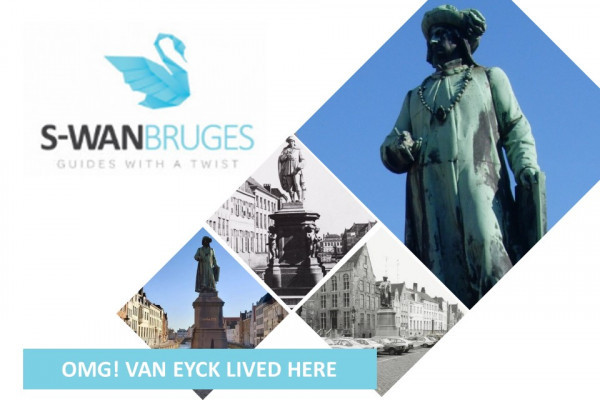 The guide takes you through Burgundian Bruges in the footsteps of Jan van Eyck. Who is he, where does he come from, where did he live in Bruges, what did he do there? How did Bruges honor its greatest painter over the centuries?
The magic of the Flemish Primitives
History of Bruges' golden age
Getting to know Van Eyck and his time
Group ticket 90 € per guide (Max. 20 participants per guide)
| | |
| --- | --- |
| Duration | 2 Hours or 0 Hour |
| Participants | The number of participants per group is limited to 20. |
| Important information | The visitor must follow Swan corona guidelines. Please bring a mouth mask. |
Further information
There it stands, the mighty Baltic Oaktree, ready to be sawn into panels for that Flemish not so primitive painter that bears its Flemish name: Jan van Eyck. Whatever those of Ghent, even with Gods help, might claim, the panels will be hauled to Bruges, where Jan lived with his Margaret. There he worked for this notorious Burgundian Philip the Good at his Dukes' Court, and there he was buried in St. Donatian's Church. His contemporaries don't know the learned artist of the Jan van Eyck Square, they know the craftsman of the choir stalls of St. Saviour's Church and the statues of city hall. His innovative use of oil paint elevated him from Flemish Primitive to the romantic hero of modern times.
0 Reviews
Unfortunately there are no reviews available. Be the first to review From oak to panel. Jan van Eyck in Bruges.
know betterbook bettergo better
TripAdvisor Traveler Rating
3 Reviews
More offers from this partner