Bruges Triennial 2021: TraumA (2 hours)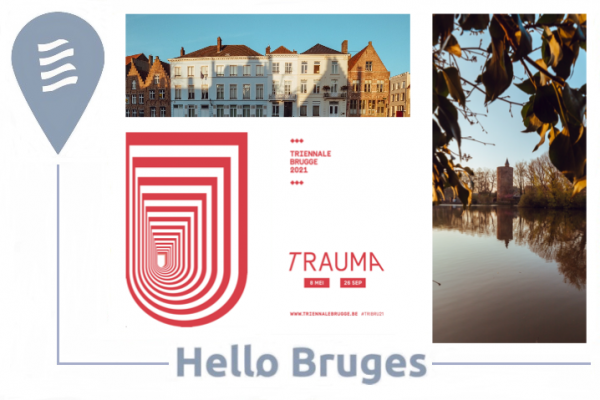 Bruges triennial again shows itself in its best light with the new theme: TraumA. From May 8th till September 26th 2021 the inner city will once more be the scenery for contemporary art and architecture.
Surroundings: the inner city of Bruges
Focus on: new in 2021, architecture, contemporary, art
Target audience: families, men – and - women on the go, friends among each other, business relations
| | |
| --- | --- |
| Duration | 2 Hours |
| Bring along | The reservation confirmation. |
| Participants | Maximum 16 participants per guide. |
| Important information | Our guide will be present at the starting place (Jan van Eyckplein (near the statue of Jan van Eyck)) 10 minutes before departure. Look for the silvery Hello Bruges badge. For an other starting place please contact info@hellobruges.com. Other languages available on request. For more information please consult our website www.hellobruges.com |
Further information
Bruges Triennial 2021: TraumA balances between the present and the hidden. TraumA responds to the imagination, to the pomp and splendour as well as to the 'unheimliche', present just below the surface. Although to lots of people Bruges seems to be a dream destination, there is unmistakably a slumbering aspect of poverty, loneliness, pollution and fear in this picture-perfect world. TraumA reveals these less attractive aspects of the city and allows them to become part of the image.Our guide takes you on a tour alongside a route with installations of both national and international artists, to places navigating between delusion and reality, between private and public, between dream and nightmare. Invisible layers emerge and stories long forgotten are discussed.
Highlights: • Artists: Amanda Browder | Nadia Kaabi-Linke | Jon Lott | Joanna Malinowska & C.T. Jasper | Nadia Naveau | Nnenna Okore | Henrique Oliveira | Hans Op de Beeck | Laura Splan | Gijs Van Vaerenbergh | Adrián Villar Rojas | Héctor Zamora
The recommended corona measures are applicable
10 Reviews
Vakkundige gidsen van Hello Bruges, verzorgden voor ons (3 x 15 p) een aangename rondleiding.
Soepel verlopen boeking en uitvoering. Wij hebben met 45 p drie gidsen gehad, die allen ter zake kundig en goed geinformeerd waren. We gaan dezelfde tour nòg een keer doen. Weer met 45 p.
Kortom zeer goed bevallen.
by Wim Wijdeven on 09/22/2021
Goede gidsen, mooie werken
Het is een toffe ervaring en aan iedereen aan te raden zelfs diegene die niet naar een museum gaan.
by Marie-Rose Mouton on 09/21/2021
Fijne ervaring
Één rondleiding met een gids is zeker een meerwaarde. Het was een heel fijne ervaring.
by Nicole Kellner on 09/13/2021
More offers from this partner