TraumA - Triennal Bruges 2021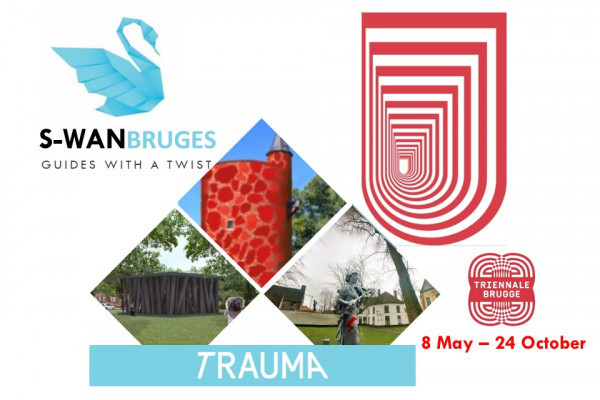 TraumA explores the fine line between Dream - Traum - and Trauma. It responds to the pomp and circumstances, but also to the uncanny that is present underground. Although Bruges seems to be a dream destination to many, poverty, loneliness and pollution also are dormant in this picture-perfect world.
A trail of sculptural, architectural, and organic creations
What is going on behind those stately facades, how is this medieval city really living?
A polyphonic story
Duration
2 Hours
Bring along

Mensen met een visuele beperking: naast mondmasker ook handgel en handschoenen voorzien (bepaalde werken zijn in model voorzien of kunnen betast worden). Zij kunnen hun geleidehond meebrengen.

Mensen met een auditieve beperking:eventuele hulpmiddelen, zoals gebarentolk, schrijftolk..., moeten door de bezoeker zelf voorzien worden indien dit nodig is. 

Participants
Maximum 16 visitors per guide. ATTENTION !! the maximum number of persons allowed per guide depends on the corona measures that apply on the date of the visit.
Further information
With admiration and amazement, the visitor sees the picturesque Bruges buildings that radiate history, as it were, from every pore of their stones. Bruges is a dream destination for him. Then why TraumA? The trauma of the exhibition refers to the less visible side of Bruges behind those medieval facades: loneliness, poverty, pollution, fear. The word 'TraumA' also contains the word "Traum": the dream, the image of a city approaching perfection. But this word also contains the word "Raum": the space, but also the room. The visible open space versus the hidden private space. Squares, streets and parks versus rooms and gardens. A space in which artists and architects can explore both the stage and the dusty wings and question the hidden dimensions of society, portraying duality and stimulating our imagination and senses.
4 Reviews
Meer dan een bezoek waard!
Prachtige Triënnale en uitstekende gids.
by Nancy Vanraefelghem on 07/08/2021
Fijne rondleiding van de Trienale Trauma.Zeer goede gids,fijne uitleg.Toppie
Aangename en professionele gids,super gedaan

Zonder probleem kunnen boeken

Zal deze aanbieding aanraden bij familie en vrienden
by Marianne Rammeloo on 07/08/2021
Kunst doet altijd deugd
Stond op plaats (poortersloge) die vermeld was op aankondiging, maar was niet juist, moest op de Burg zijn. Gelukkig niet ver van elkaar????
Zou deze wandeling aan iedereen aanraden!
Hadden gids die ook over de geschiedenis van bepaalde gebouwen en plaatsen meer kon vertellen, das ook meegenomen
Heel tevreden. Linda

by Linda Tyteca on 07/08/2021
know betterbook bettergo better
TripAdvisor Traveler Rating
1 Review
More offers from this partner