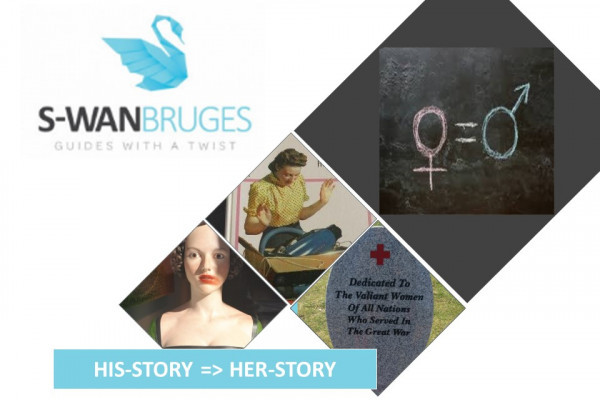 How do I become a Bruges influencer (through the ages)? #Careforagoodcover @AnnDB # DivorceIfIt'sNecessary @PetronellaV #ALoverDoesn'tHarm@MathildeL #DePowerOfTheWord @CarolineP #SlowPainting @GertrudeP #BecomeInfamouslyRich @ Marie-AnneV. And many others… Where History becomes a HER story.
HIS-story becomes HER-story
HIS-story becomes HER-story
Bruges women's history through the centuries
Bruges women's history through the centuries
Strong women in their time period
Group ticket 90 € per guide (Max. 20 participants per guide)
| | |
| --- | --- |
| Duration | 2 Hours |
| Participants | The number of participants in a group is limited to maximum 20 |
| Important information | S-wan is concerned with your safety. Please bring a mouth mask. |
Further information
Equal opportunities, glass ceiling, gender, you name it. Outdated or still current? Women's history is the subject of this walk. Based on concrete Bruges women's lives, we frame a number of women in their time period. With its possibilities but especially limitations. Women with drive and commitment, in completely different life situations. Her-story instead of his-story.
2 Reviews
Leerrijke wandeling
Brugge bekeken door de ogen van de vrouwen.
Heel interessant en aanrader!
by Marjan Parmentier on 09/16/2022
Straffe Madammen wandeling geleid door een straffe S-wan gids!
De gids was iemand die plots moest invallen.
De oorspronkelijke gids was ziek.
De gids kon boeiend vertellen.
Haar voorbereiding was super: alles uitgeschreven en ingestudeerde adhv de info van de oorspronkelijke gids.
De timing was perfect van 14u, even voordien op de Burg voor het stadhuis verzamelen als start, tot 16u op deze plaats terug als einde van de wandeling.
De inhoud van de wandeling was interessant en leerrijk.
De boeking vooraf verliep heel vlot online.
De updates ivm de komende wandeling waren via mail en waren actueel.
Ik zou deze wandeling en S-Wan zeker aanraden bij iedereen die Brugge eens wil verkennen op een net andere manier en adhv minder gekende plekjes.
by Karin Robert, Groen Brugge on 12/17/2021
know betterbook bettergo better
TripAdvisor Traveler Rating
3 Reviews
More offers from this partner