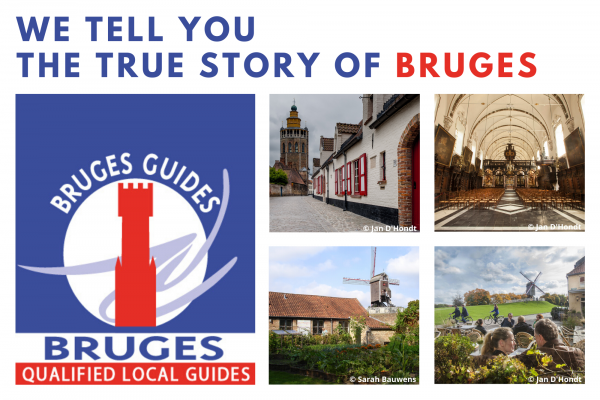 A unique experience for those who want to discover the unknown highlights of one of Bruges most idyllic quarters. Get carried away along the less known paths in Bruges and discover the fascinating and surprising quarter of Saint Anna, together with her beautiful windmills and churches.
Quiet Bruges
Less touristic area
Unesco-world heritage
| | |
| --- | --- |
| Duration | 2 Hours |
| Participants | 1 guide for 1 - 15 pax 2 guides for 16-30 pax 3 guides for 31 -45 pax, .... |
| Important information | Meeting point: Bourg square in front of the City Hall. Please arrive 15 minutes in advance at the meeting point. Our guide will be wearing a badge. |
Further information
Discover hidden treasures in a picturesque part of the city as you wander towards the Saint Walburga Church, Saint Anne's church, the Adornesdomain,  the lace museum, the museum of folk art, the "Guido Gezelle" museum, the archers' guilds of Saint George and Saint Sebastian, the English cloister, the windmills and the "Potterie" museum and old hospital.
3 Reviews
C'EST TELLEMENT MIEUX!!
C'est une visite très agréable que nous avons fait avec Anna notre guide. Anna parle parfaitement français, et nous a amené dans un quartier de Bruges moins visité en nous expliquant la vie de cette ville et des ses habitants par les détails de ses habitations, monuments et rues. On a choisi cette visite car le centre est inévitablement visité contrairement à la partie qu'on a faite.Si on avait plus de temps, on aurait pris une deuxième visite. Merci encore Anna.
by Laurence on 11/05/2019
Een wandeling voor de stiltegenieter
Ik zou de wandeling aanbevelen aan wie geïnteresseerd is in de oude en moderne geschiedenis van de stad, aan wie niet houdt van drukte , voor wie de bierwinkels , chocoladewinkels, souvenirwinkels ..... geen aantrekkingskracht hebben. Je maakt kennis met een heel ander Brugge : rustige buurten, prachtige kerken, , landelijk aandoende stadsomwalling ...; heerlijk
by Viviane Naedts on 11/01/2019
Verrassende, stille, prachtige wandeling
Ik zou de wandeling aanraden aan mensen die eens een andere kant van Brugge willen zien! Het Brugge zonder de massa toeristen, waar het stil is en waar je de tijd eventjes vergeet....!

by carolien tulpin on 05/14/2019
More offers from this partner