Guided visit Gruuthuse Museum (SWN)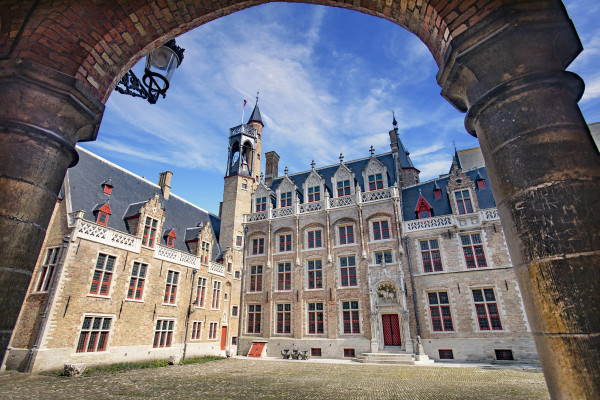 This year, one of Bruges' finest monuments reopens its doors following major renovation.The palace of the lords of Gruuthuse introduces you to many stories from the city's fascinating past.The rich history is explored through a collection of tapestries,paintings,archive documents,lace and silverware
Not included

The entrance fees are not included in the ticket and always have to be paid cash on the spot.

Duration
2 Hours
Participants
Maximum 20 participants per guide.
Important information

Purchased tickets cannot be cancelled or refunded.
Please be present at least 10 minutes in advance.

A maximum of 1 guide can be booked per time block.
Further information
This year, one of Bruges' finest monuments reopens its doors following major renovation. The city palace of the lords of Gruuthuse introduces you to many stories from the city's fascinating past. This rich history is explored through a fine collection of tapestries, paintings, archive documents, lace and silverware.
The tour is carried out by the guide association Swan on behalf of Toerisme Brugge.
4 Reviews
Bezoek Gruuthusemuseum is een aanrader, zeker ook voor Bruggelingen !
De aanvraag gids verliep deze keer veel beter dan de eerste aanvraag voor onze groep Zilveren Passer Brugge 2 via Regiondo (?).
De rondleiding in een prachtig gerenoveerd Gruuthuse was bijzonder interessant.De groep was zeer onder de indruk.
Kleine opmerking : ik ontving een herinnering voor de reservatie 1 uur voor start, dit mocht beter een paar uur eerder dacht ik.
by Gilberte Vanbiervliet on 12/16/2019
Matig
Gids,van middelmatige kwaliteit
Veel moeilijkheden bij het boeken van gids
by luc deschildre on 11/28/2019
de gids was super bekwaam en beantwoordde perfect aan onze verwachtingen.
de gids was super bekwaam en beantwoordde perfect aan onze verwachtingen. Ze kon alle evenementen perfect in de tijd plaatsen. we zijn van plan volgend jaar, MET DEZELFDE GIDS, opnieuw de rondleiding te maken om ons geheugen op te frissen en alles wat we niet onmiddellijk gememoriseerd hebben op te frissen. Fantastische ervaring met deze gids !
by Gladys ADOLPHY on 10/05/2019
More offers from this partner