–10%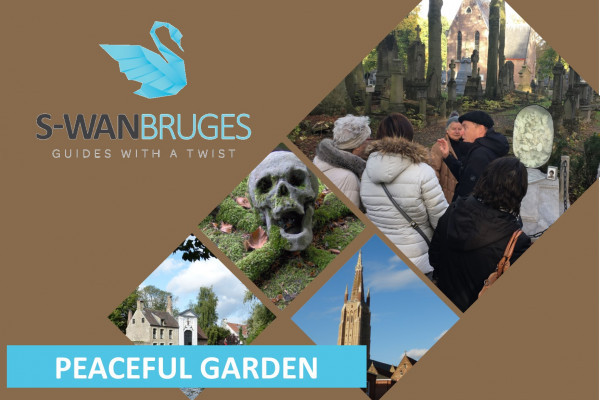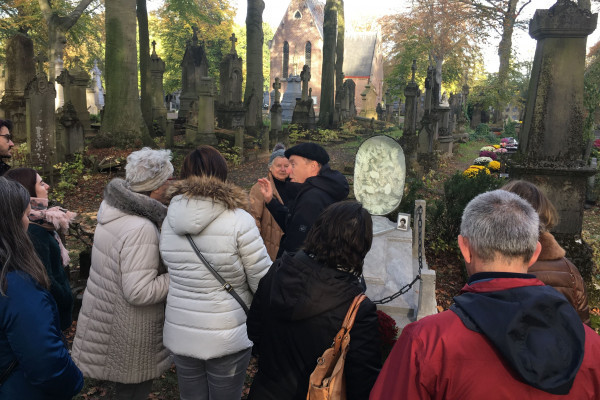 Thematic visit  to the Central Cemetery of Bruges around grave symbolism, led by an S-wan guide.
Quiet, green garden of the dead
Well-known tomb symbolism
Each grave monument tells a different story
| | |
| --- | --- |
| Duration | 2 Hours |
| Participants | The tour is limited to maximum 15 participants due to Corona restrictions. |
| Important information | Please be at the appointment 10 minutes in advance (Large entrance Central Cemetery at the end of the Brugs-Kerkhofstraat) since the guide leaves promptly. |
| Additional information | S-wan_algemeen.pdf |
Further information
Amen to being buried in and around the church! Joseph II, the Emperor-sexton, in 1784 issues the infamous ordinance on funerals. Not only is the "churchyard" now a banal "cemetery", but the Bruges funeral rates are rising for a second time in less than 6 weeks. Game on! The Bruggeling strongly opposes now that death also becomes an expensive affair.
This is how the history of the "Rapestik" begins, where every funerary monument tells a story. Two hundred years of funerary history and cult of the dead await those who walk melancholically along the many corridors.
6 Reviews
zeer goed!
Ik zou deze activiteit iedereen aanraden, is zeker heel leerrijk en een mooie wandeling in een uniek kader, waarvoor dank,
N.Bleyaert
by nicole Bleyaert on 11/19/2019
De tuin van hades
Zeer boeiend. Enorm van genoten.
by Tine De craecker on 11/02/2019
Een aangename boeiende spreker met zeer goede informatie. De begraafplaats geeft zo zijn geheimen prijs. We hebben veel gezien en gehoord, zowel van vroeger als van nu. Zeker een aanrader. Het weer was ons ook goed gezind.
Zeer positieve ervaring. Wat pretfactor betreft... ik heb dat ingevuld naar gekregen informatie gedurende de 2 uur. De gids kon eigenlijk nog verder doen. We hadden eigenlijk tijd te kort. Van 'pret' op een kerkhof kan je wel moeilijk spreken.

Geen moeilijkheden bij het boeken.

Ik zou dat aan iedereen aanraden. Natuurlijk moet er interesse zijn voor het verleden.
by Vero on 11/01/2019
know betterbook bettergo better
TripAdvisor Traveler Rating
1 Review
More offers from this partner