Guided visit Gruuthuse Museum 2020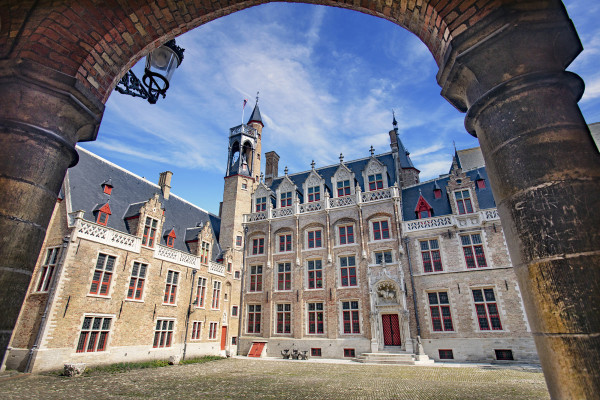 This year, one of Bruges' finest monuments reopens its doors following major renovation.The palace of the lords of Gruuthuse introduces you to many stories from the city's fascinating past.The rich history is explored through a collection of tapestries,paintings,archive documents,lace and silverware
Not included

The entrance fees to the museum are always to be paid cash on the spot. Adults: 12 euros (10 euros for groups of 15 persons or more).

Duration
2 Hours
Participants
Maximum 20 participants per guide.
Important information

Booking deadline: 7 days before your visit.

Purchased tickets cannot be cancelled or refunded.

Please be present at least 10 minutes in advance.A maximum of 1 guide can be booked per time block. 2 guides needed? Please choose 2 time blocks. If you have a preference for a guide association you can indicate this in the last step of the payment process.
Further information
This year, one of Bruges' finest monuments reopens its doors following major renovation. The city palace of the lords of Gruuthuse introduces you to many stories from the city's fascinating past. This rich history is explored through a fine collection of tapestries, paintings, archive documents, lace and silverware.
3 Reviews
in een prachtige architecteur even terug in de tijd
De leuke anekdotes die de gids vertelde, maakten de rondleiding extra interessant
by Lena Cornelis on 02/27/2020
Super dat je van de rondleiding in het museum genoten hebt! Bedankt voor de informatie. Isabelle - Incoming Visit Bruges
super!
Met 2 gids gehuurd. Zoon pas 5.5jaar oud maar heeft het goed beleefd. Gids zich beetje aangepast aan zijn leeftijd wat super was. Gruuthuus op zich natuurlijk ook schitterend en met een echte gids erbij zoveel beter 'gezien'. De 80 euro meer dan waard.
by isabella wallecan on 02/03/2020
super
Ik heb deze rondleiding ondertussen aan vele andere aanbevolen.
Je krijgt echt een goed beeld van hoe Brugge leefde in de verschillende historische periodes.


by Ann Vandenbogaerde on 01/30/2020
More offers from this partner