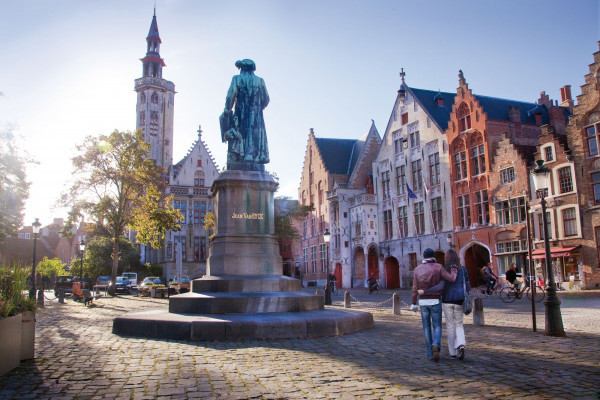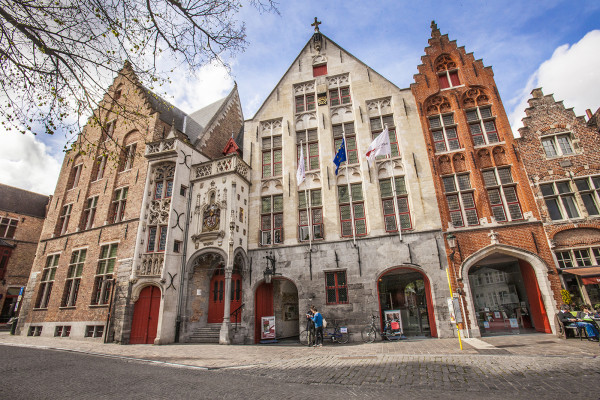 Follow in Jan van Eyck's footsteps with an expert guide. You will 'meet' the master, learning all about his personal life and discovering where the painter lived and worked in the 15th century – Bruges' golden era.
Exclusive walk
Small group
Unique experience
Flemish primitives
discount for visit Groeninge Museum
Jan van Eyck
Duration
2 Hours
Participants
Max. 16 persons per guide.
Important information

Attention: purchased tickets cannot be cancelled or refunded.
Please be present at least 10 minutes in advance.
One of the locations is not accessible for wheelchair users.

 

 

Upon presentation of a printed ticket for the guided city walk, you will receive a discount of € 2 on the regular entrance price at the front desk of the Groeninge Museum (discount only valid from Thursday 12 March until Sunday 12 July 2020).

The Groeninge Museum is open Tuesday to Sunday, 9.30 a.m. – 5 p.m. Closed on Mondays (except for Easter and Whit Mondays) and Ascension day (afternoon). Last admission is 30 min. before closing time. 

You can see Van Eyck's masterpieces at the 'Van Eyck in Bruges' exhibition at the Groeninge Museum, along with the permanent collection of Renaissance and Baroque Masters, wonderful neoclassical pieces from Bruges from the 18th and 19th centuries and Flemish Expressionist artworks.



Further information
Bruges is the cradle of the Flemish primitives and was the home town of painter Jan van Eyck in the 15th century. This walk will take you to the painters' neighbourhood, where you will find the Gouden-Handstraat – the street on which van Eyck lived and worked.
You will visit the Jan van Eyckplein, where you can see his statue and admire the Poortersloge (Burghers' Lodge), which housed the City Academy of Fine Arts until the end of the 19th century. Van Eyck's painting 'Madonna with Canon Joris van der Paele' was also kept here.
On Burg Square you will see the place where Jan van Eyck was buried and learn about his connection with the City Hall. At the Prinsenhof (Princes' Court) you will find out all about the grandeur of the Burgundian court, where van Eyck had an important role as the court painter. On this walk you will not only follow van Eyck's daily commute; the guide will also be introducing you to some hidden places in the city. You are entitled to a discount on your entrance into the Groeninge Museum upon presentation of your ticket.
The guided walk is available in dutch, french, german and english.  One guide per language is at your disposal. 
A maximum number of 16 persons is allowed per guide.
0 Reviews
Unfortunately there are no reviews available. Be the first to review Meet & greet Van Eyck.
More offers from this partner