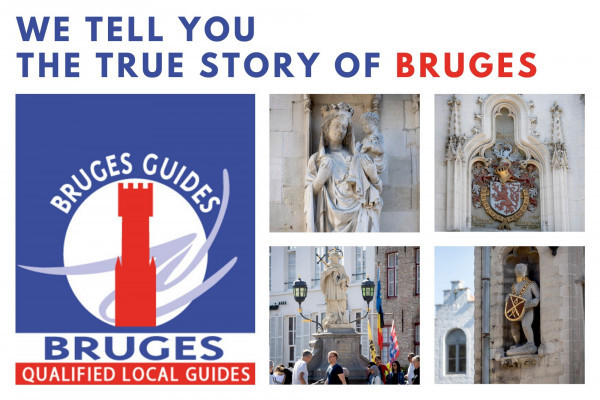 Are you ready to plunge into the magic of tales and urban legends? Come along with one of our passionate guides and get yourself carried away by the numerous myths, tales and legends of Bruges. Young and old are welcome for this walk through the enchanted city of Bruges!.
Stories
Inner city
Must See
| | |
| --- | --- |
| Duration | 2 Hours |
| Participants | 1 guide for 1 - 15 pax 2 guides for 16-30 pax 3 guides for 31 -45 pax, .... |
| Important information | Meeting point: Market square, Historium.  Please arrive 15 minutes in advance at the meeting point. Our guide will be wearing a badge. |
Further information
A walking tour based on traditional stories and legends in Bruges that relate to the buildings, paintings and various locations in the city. The grandiose romantic traditional stories or poetic works speak to us about historical occurrences from the heroic past. Legends center on the folk stories and myths of the people focusing more on the entertaining and moral elements and less on historical accuracy.
4 Reviews
enthousiast
Het was een enthousiaste dame die gedreven vertelde en ook nog foto's en kaarten bij zich had om alles te illustreren.
de wandeling was eenvoudig en snel te boeken.
by Guy Brewee on 09/03/2020
weinig inspirerend
Dirk was zeer vriendelijk en is duidelijk een gids met heel veel kennis. Maar als ik voor sagen en legenden kies en aangeef dat er tieners bij zijn, verwacht ik een enthousiaste verhalenverteller die ook in interactie gaat met zijn groep.Er werden veel legendes vernoemt maar eigenlijk werd er maar ééntje wat uitgebreider vertelt en op een nogal droge manier. We hadden weliswaar in het begin aangegeven dat er ook wat algemene info over Brugge mocht gegeven worden, maar uiteindelijk werd het voor de kinderen een weinig boeiende wandeling. Ik denk wel dat deze gids voor een ander doelpubliek en ander type rondleiding wel zeer geschikt kan zijn.
by katrien mampaey on 09/14/2019
géniale découverte de Bruges
notre groupe était composé d'américains, de français, d'allemands et de belges néerlandophones. En conséquence, nous avions loué les services d'un guide anglophone. Notre guide nous a livré les anecdotes dans toutes les langues de notre groupe, virevoltant d'une langue à l'autre. Un tout grand merci à lui et aussi pour sa gentillesse.
by dany titeca on 08/31/2019
More offers from this partner