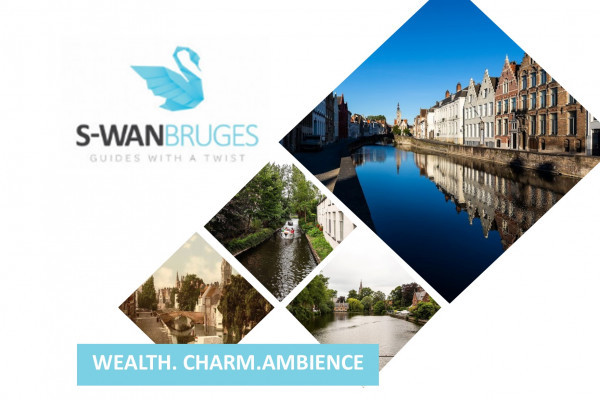 There is plenty of water in Bruges. You can't miss it. Bruges owes everything to the water: its origin, its prosperity, its ambition, its dreams. The water determines the character of the center of Bruges. Wealth in the Middle Ages, today the water brings charm and atmosphere.
Bruges and water, an inseparable duo.
Water then, water today.
Who says water says bridges.
Group ticket 90 € per guide (Max. 20 participants per guide)
| | |
| --- | --- |
| Duration | 2 Hours |
| Participants | The number of participants in a group is limited to maximum 20 |
| Important information | S-wan is concerned about your safety. Please bring a mouth mask. |
Further information
Man overboard! No less than 23 times labourer Franciscus Van Quickelborné saved a drowning person (or his saviour) fallen into the Bruges' canals. He was officially decorated in 1828. Hazardous for drunkards and suicidal persons, but obviously, these water veins turned out to be a matter of life and death for our city. A natural estuary brought wealth to the medieval metropole. Together with the Burgundians, luxury goods from all over the world found their way into the city. Napoleon dug a strategic canal to the river Scheldt. Bruges Sea Harbour is one of Europe's fastest growing ports. And the Bruges' canals? They still receive millions of visitors every year.
2 Reviews
Update zum Führung Wasserstadt Brügge vom November 2022
Diesmal war das Thema Wasserstadt im Vordergrund und somit wurden nicht die üblichen Stationen und Sehenswürdigkeiten besucht, sondern die Bedeutung des der Wasserstrassen war das Hauptthema. Sehr interessant, mal was anderes.
Klare Empfehlung !
by Jürgen Schwadorf on 06/21/2023
Thema Wasserstadt etwas kurz ausgefallen, eigentlich eine normale Stadtführung
Besucher, die Interesse an einer Stadtführung haben und etwas mehr erfahren wollen.

by Jürgen Schwadorf on 11/18/2022
know betterbook bettergo better
TripAdvisor Traveler Rating
3 Reviews
More offers from this partner